Guest of Honor
Seanan McGuire is a writer of things. She writes so many things, in fact, that she had to become her own evil twin, Mira Grant, in order to publish them all. When she is not writing things, she likes to visit Disney Parks, spend time with her Maine Coon cats, and watch more horror movies than is strictly healthy. Seanan regularly claims to be the vanguard of an invading race of alien plant people, and we have as yet been given no reason to question her assertions. She's looking forward to meeting you all.
Art Guest of Honor
Ursula Vernon's art includes the web comic Digger, which won the 2012 Hugo for Best Graphic Story and the 2013 Mythopoeic Award for Adult Literature. She also writes a children's book series, Dragonbreath, and several young adult series. She is also known for her blogging talent as Ursulav on Livejournal.
Music Guest of Honor
Canadian recording artist & touring musician Heather Dale writes songs for witty, fun-loving, imaginative people who aren't afraid to be different. Heather's original songs tap into world legends, history and fantasy.
As a modern woman with Celtic roots, Heather finds new insight within old material, and cheerfully fuses the Celtic folk tradition with a healthy mix of world music and rock influences. She and the Heather Dale Band are cheerful, adventurous, free-spirited people who spend most of each year traveling around North America and Europe.
Special Guests
Tamora Pierce is a bestselling author of fantasy books for teenagers. Her books, known for their teenaged girl warriors and wizards, have received critical acclaim and a strong fanbase. She is now a #1 New York Times bestselling author and with Exile, the book she's writing now, she will have published thirty books.
Tom Smith is NOT your ordinary comedy musician. With the lyrical complexity of Ashman and Sondheim, the vocal fireworks of Meat Loaf, the comedic timing of Robin Williams, and the dynamic physique of the Skipper from Gilligan's Island, the only thing he won't do is be boring.
Other Guests
Danielle Ackley-McPhail published works include five urban fantasy novels, Yesterday's Dreams, Tomorrow's Memories, Today's Promise, The Halfling's Court, and The Redcaps' Queen: A Bad-Ass Faerie Tale, and a young adult Steampunk novel, Baba Ali and the Clockwork Djinn, written with Day Al-Mohamed. She is also the author of the non-fiction writers guide, The Literary Handyman and is the senior editor of the Bad-Ass Faeries anthology series, Dragon's Lure, and In An Iron Cage. Her work is included in numerous other anthologies and collections.
****
D.H. Aire has walked the ramparts of the Old City of Jerusalem and through an escape tunnel of a Crusader fortress that Richard the Lionheart once called home. He's toured archeological sites that were hundreds, if not thousands of years old… experiences that have found expression in his writing of his epic fantasy Highmage's Plight Series: Highmage's Plight (Book 1), Merchants and Mages (Book 2), Human Mage (Book 3), Highmage (Book 4), Well Armed Brides (Book 5), and even in the first book of his new urban fantasy series, Dare 2 Believe. To learn more about his books and other projects visit the author's website, www.dhr2believe.net. Follow him on: Twitter @dare2believe1 Facebook.
****
Glenn Arthur tried for years to strike a balance between FIAWOL and FIJAGDH before giving up and going to the FIAWOL side a few decades ago. A multi-instrumentalist and sometimes filker, Glenn plays with The Homespun Ceilidh Band and has organized the Regency Ball pick-up band for Darkover in the past, and hallway blues-jam sessions at various conventions, as well as doing early music, blues/classic rock, and musical theatre ... and on one occasion appeared as a dancing clam. At filk conventions, Glenn brings extra instruments to lend out and for show-and-tell.
****
Charles Butler is the chair of the Mythic track. He has been writing historical fiction for about 20 years and reads lots of SF & Fantasy. He is a playwright, singer, and signer. He works with Wicca and Santeria prisoners. He is versed in Tarot, divination, magic and prayer and is currently enrolled at the Howard University School of Divinity.
****
Margaret Carter specializes in vampires, having been marked for life by reading Dracula at the age of twelve. Her vampire novel Dark Changeling won an Eppie Award in the horror category in 2000. Other creatures she writes about include werewolves, dragons, ghosts, and Lovecraftian entities with tentacles. In addition to her horror, fantasy, and paranormal romance fiction, she has had several non-fiction books and articles published on the supernatural in literature. With her husband, retired Navy Captain Leslie Roy Carter, she has collaborated on a sword-and-sorcery trilogy, beginning with Wild Sorceress. Her recent works include Legacy Of Magic (a prequel to the trilogy), Passion In The Blood (a vampire romance), Bear Hugs (an erotic romance shapeshifter novella), and Sealing The Dark Portal (a paranormal romance with Lovecraftian elements). Explore love among the monsters at her website, Carter's Crypt: http://www.margaretlcarter.com.
****
Carl Cipra started reading F&SF in his pre-teen years and has been hooked ever since. He became involved with Fandom back in the 1970s (by way of the SCA in Southern California) and is one of the founding members of Lambda Sci-Fi: DC Area Gaylaxians. He really enjoys moderating discussion panels at conventions and is looking forward to all the fascinating discussions at Chessiecon this year. Mundanely, Carl is the program manager for instructor-training in a much-maligned, three-letter Government agency.
****
Vonnie Winslow Crist is an award-winning author and illustrator who believes the world is filled with mystery, miracles, and magic. "The Enchanted Skean," Ms. Crist's first novel, was a finalist for the Compton Crook Award. Her speculative story collections, "Owl Light" and "The Greener Forest," each include a L. Ron Hubbard Writers of the Future award-winner. Her writing appears in anthologies and magazines published in Italy, Spain, Canada, Australia, Finland, the UK and USA including: Dragon's Lure, Potter's Field 5, Tales of the Talisman, Zombies for a Cure, Faerie Magazine, Dia de los Muertos, and Dogs of War. Over 1,000 of her illustrations have been published -- most recently, cover art on: FrostFire Worlds, Outposts of Beyond, Bards and Sages Quarterly, Scifaikuest, Illumen, and Spaceports and Spidersilk. She is editor of The Gunpowder Review, co-editor of Hides the Dark Tower, and a staff writer for Harford's Heart Magazine. She is also a clover-hand who's found so many 4-leafed clovers she keeps them in jars. For more information about Ms. Crist, visit her website: www.vonniewinslowcrist.com
****
Susan de Guardiola has been active in fandom for more than thirty years as a costumer, masquerade emcee, and all-around fan. She has worked as a book reviewer for Publisher's Weekly and the Amazon Breakthrough Novel Contest. She ran the Hugo Awards Ceremony in 2012 and the infamous BOGS fundraiser at Darkovercon for seventeen years. Professionally, she is a social dance historian and popular dance teacher who may often be found in musty library stacks researching dance from the 16th to the early 20th century, which she teaches at workshops and dance events across the United States and Russia. In her spare time, she plays high-speed online Scrabble and studies Russian.
****
Harrison Demchick came up in the world of small press publishing, working along the way on more than sixty published novels and memoirs, several of which have been optioned for film. An expert in manuscripts as diverse as young adult, science-fiction, fantasy, mystery, literary fiction, women's fiction, memoir, and everything in-between, Harrison is known for quite possibly the most detailed and informative editorial letters in the industry-if not the entire universe.

Harrison is also an award-winning, twice-optioned screenwriter, and the author of literary horror novel The Listeners (Bancroft Press, 2012). He's currently accepting new clients in fiction and memoir at The Writer's Ally.
****
Mary Fan is the author of the "Jane Colt" sci-fi series (from Red Adept Publishing), the "Flynn Nightsider" young adult dystopian fantasy series (from Glass House Press), and the "Fated Stars" high fantasy series (from Glass House Press). Her interests include religion and philosophy in sci-fi, artificial intelligence, dystopias, music in fiction (she's a classically trained musician and composer), and fairy tales. In addition, she cares about diversity (or lack thereof) in fiction and what it's like being a minority author.
****
C.S. (Celia) Friedman is a best-selling author of fantasy and science fiction, as well as an accomplished costume designer. Critics have acclaimed her complex and compelling characters, richly textured worlds, and keen insight into the shadows and twists of human nature. She has published eight science fiction and fantasy novels to date, including the acclaimed Coldfire Trilogy. Her works have been translated into German, French, Italian, Dutch, Russian, and Polish.
****
Kelly Harmon used to write truthful, honest stories about authors and thespians, senators and statesmen, movie stars and murderers. Now she writes lies, which is infinitely more satisfying, but lacks the convenience of doorstep delivery.

Stoned in Charm City, the first of Ms. Harmon's new urban fantasy series, Charm City Darkness, was released in May. A Favor for a Fiend, the second book in the series, will be available in November. Her award-winning novella, Blood Soup, is available electronically, re-released by Pole to Pole Publishing.

Ms. Harmon's short fiction appears in many acclaimed and award-winning anthologies including Deep Cuts: Mayhem, Menace, & Misery, Triangulation: Dark Glass, Bad Ass Fairies 3: In All Their Glory, and Hellbore & Rue. Her story Lies short-listed for the Aeon, Ireland's Science Fiction, Fantasy and Horror Award.

Ms. Harmon is a former magazine and newspaper reporter and editor. She has published articles at SciFi Weekly, eArticles, and many other magazines and newspapers in the U.S. and abroad. Read more about Ms. Harmon at her Web site: http://kellyaharmon.com.
****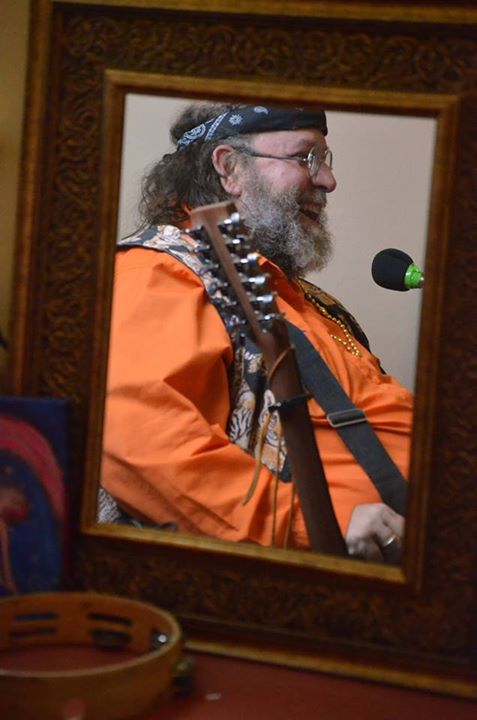 Steve Haug (aka Maugorn The Stray) is a full-time musician and has been performing music since some time that he's neglected to note. Suffice it to say, that's been for at least one lifetime, probably several. He's performed on and in festivals, renaissance faires, dives, bistros, coffee shops, sub shops, streetcorners, and sci-fi conventions. His repertoire and writing spans the Ages and a keleidoscope of genres. He performs upon an arsenal of instruments, sometimes on several at once.
****
Kim Headlee lives on a farm in southwestern Virginia with her family, cats, goats, Great Pyrenees goat guards, and assorted wildlife. People and creatures come and go, but the cave and the 250-year-old house ruins -- the latter having been occupied as recently as the mid-twentieth century -- seem to be sticking around for a while yet.

Kim is a Seattle native and a direct descendent of twentieth-century Russian nobility. Her grandmother was a childhood friend of the doomed Grand Duchess Anastasia, and the romantic yet tragic story of how Lydia escaped Communist Russia with the aid of her American husband will most certainly one day fuel one of Kim's novels. Another novel in the queue will involve her husband's ancestor, the seventh-century proto-Viking king of the Swedish colony in Russia.

For the time being, however, Kim has plenty of work to do in creating her projected 8-book Arthurian series, The Dragon's Dove Chronicles, and other novels under her imprint, Pendragon Cove Press.
****
Cathy Hird is a shepherd and a weaver. She runs a small sheep farm with her family, and she shepherds a congregation of the United Church of Canada near Toronto, Ontario. Cathy weaves tapestries and stoles, and she tells stories that pull together the threads of life and glimpses of wisdom.

Her YA fantasy novel Moon of the Goddess set in ancient Greece was published in 2013.
****
John Huff grew up in a house where music was a pretty common commodity. His mother played piano and sang and his eldest sister was heading in the direction of a concert pianist. Little did he know that his father played guitar (he kept it well hidden) in a swing band put together from fellow crewman on his various naval vessels he crewed on.

In grade school John learned to play the clarinet and piano accordion, but when he entered high school he discovered those weren't "cool" instruments so he dropped them. It was in 1972, five years after the summer of love, that John got his hands on a guitar for the first time; it was love at first bite. After that he learned to play five string banjo, tenor banjo, concertina, bass guitar, mandolin and in the last few years violin and fiddle.

So, how does this end up with John playing at sci-fi cons?

A couple of years later (the fall of '74) John and his buds, who were also freaks of folk music, science fiction, photography, and model rocketry learned that the 32nd annual World Science Fiction Convention was to be held in Washington D.C.. To make a long story short the lead to John learning about filk, to getting into medievalism (through model rocketry no less), to meeting his future wife, forming Clam Chowder, to getting into raising and training whippets to living the life of humble artisans in southern PA.
****
Nickie Jamison wrote her first full-length novel at age 10 – that creative endeavor sparked her desire to begin her writing career. Ms. Jamison's short erotic fiction has been published in the Coming Together Among the Stars, Coming Together Outside the Box, and Slice Girls anthologies. Nickie's hobbies include knitting, drinking copious amounts of wine, Netflix binge-watching, and painting her nails. She lives in Hampton Roads with her darling husband, step-child, and two spoiled furbabies, Jayne and Frye.
****
Heather Rose Jones saw her debut historic fantasy novel Daughter of Mystery published by Bella Books this year, with the sequel The Mystic Marriage forthcoming in April 2015. Readers may already be familiar with her "Skinsinger" series in the Sword and Sorceress anthology series. She turns a lifelong love of history and language into fiction, while paying the bills as an industrial discrepancy investigator for Big Pharma.
****
Intisar Khanani grew up a nomad and world traveler. Born in Wisconsin, she has lived in five different states as well as in Jeddah on the coast of the Red Sea. She first remembers seeing snow on a wintry street in Zurich, Switzerland, and vaguely recollects having breakfast with the orangutans at the Singapore Zoo when she was five. She currently resides in Cincinnati, Ohio, with her husband and two young daughters.

Until recently, Intisar wrote grants and developed projects to address community health with the Cincinnati Health Department, which was as close as she could get to saving the world. Now she focuses her time on her two passions: raising her family and writing fantasy. Intisar's current projects include a companion trilogy to Thorn, following the heroine introduced in her free short story The Bone Knife, and The Sunbolt Chronicles, a novella serial following a young mage with a propensity to play hero, and her nemesis, a dark mage intent on taking over the Eleven Kingdoms.
****
Cristin Kist and Jeffrey Gritman have been friends for more than 20 years and are the co-authors of Prison Dad, a series of science fiction comedy short stories. The shorts revolve around a group of friends who's drunken adventures lead them to time travel, run into aliens, switch bodies, get harassed by an army of squirrels and more. They will release the third volume at Chessiecon. Read more about Prison Dad on their website www.prisondad.com. Cristin Kist loves words and has been writing since she was old enough to hold a pencil. She hates squirrels and the music of Billy Joel, but loves dogs, travel, champagne, and fashion. She is also devoted to her amazing family and friends. She lives with her awesome, beautiful, dog, Miss Isla "Sookie" Slagathor, a puggle, who she loves and is so grateful for and her little monster, a hound mix named Samwise Brody Chewbacca, who makes her laugh. She spends her free time cooking, writing, shopping, and painting. She studied English at Penn State and has a law degree from Villanova. Her day job is working in contract negotiations. She is an attorney registered in Pennsylvania. Jeffrey Gritman loves listening to punk rock, heavy metal, hardcore, drinking a dark beer, playing video games, spending time with his great friends and family, as well as tending to his perfectly manicured yard of course. He also enjoys cooking, photography, writing, and traveling. He has a Masters of Instructional Technology from Bloomsburg University and currently lives outside Philadelphia with his wife Andrea, son Logan, and two cats.
****
Stephen Kozeniewski is the author of two well-received zombie novels (Braineater Jones from Red Adept Publishing and The Ghoul Archipelago from Severed Press) and is under contract for several science fiction and horror novels with Permuted Press. In addition to being an expert on all things horror-related, Steve is also a skilled humorist and can talk about infusing comedy into even the darkest of tales. And as an army veteran, he can also speak about the military, both in the real world and how it's depicted in fiction.
****
Timothy Liebe is the husband of and Site Administrator for popular YA fantasy novelist Tamora Pierce, as well as her co-author on Marvel Comics' White Tiger miniseries. As an actor, he appeared in original audio productions for NPR and the Pacifica Network; in audio dramatizations of Robert Heinlein's The Star Beast, Shannon Hale's Enna Burning, Geraldine McCaughrean's myth retellings of Odysseus, Thesus and Hercules, and in Tamora Pierce's Circule of Magicseries,The Will of the Empress" and original audio novel Melting Stones; as well as in cult classic movies Shock! Shock! Shock! And Attack of the Killer Tomatoes. As an independent video/filmmaker, he has helped directed and produce numerous independent projects. He is currently finishing up co-writing the Tortall Companion Guide, available in 2015.
****
Karen MacLeod 's editing credentials go back to 1977, working on various amateur writers' editing projects and freelance editing of various novels for Jacqueline Lichtenberg and Jean Lorrah. Karen has edited several award-winning novels for clients and publishers over the years.

Karen has also been the editorial consultant for Sime~Gen Inc. since 1996, working with manuscripts and posting information and novels to the Internet. Karen is also currently the Consulting Editor for the domain of Simegen.com, where responsibilities include constructing and maintaining web pages, and editor in residence for the domain's WorldCrafters Guild School.
****
Holly McClure was raised in the Smoky Mountains by preachers, shaman, storytellers, and bluegrass musicians. Her writing is inspired by the culture and stories of her Cherokee mother's people and the Scottish heritage of her father. McClure lives in Atlanta, Georgia. Learn more about her at www.hollysullivanmcclure.com.
****
Devon McLaughlin just became a published author in 2013. Her first book is a vampire novel, Deadly Conversations, which resembles the original "Dark Shadows". Her second book, Wanderling's Choice, is a novella retelling of the old "Beauty & the Beast" tale - with dragons.

D.C. McLaughlin, a veterinary technician from York county Pa., lives with her husband of fifteen years on a small farm with three Haflinger horses, a flock of chickens, several cats, a retired greyhound and thirteen corn snakes. When not caring for the animals, she participates in historical re-enactments and studies Middle Eastern dance.
****
Andi O'Connor is the award winning author of the fantasy series The Dragonath Chronicles, The Vaelinel Trilogy, and The Legacy of Ilvania. Andi's first YA novel, Silevethiel, was named to Kirkus Reviews' Best Books of 2013. Her short story Redemption, is a Kindle Book Review, 2014 Kindle Book Awards Semifinalist. Andi is a member of the National Writers' Association and the Boston Chapter of the Women's National Book Association. You can connect with Andi on Twitter @OConnorAndi and on Facebook at www.Facebook.com/oconnor.andi.
****
Tamora Pierce is a bestselling author of fantasy books for teenagers. Her books, known for their teenaged girl warriors and wizards, have received critical acclaim and a strong fanbase. She is now a #1 New York Times bestselling author and with Exile, the book she's writing now, she will have published thirty books.
****
Roberta Rogow writes Historical Mysteries, although she sometimes makes up her own history. Her most recent book is Mayhem in Manatas, in which a reluctant sleuth must solve a murder and stop a war in a Manhattan Island that never was and never will be (think Last of the Mohegans meets Arabian Nights with a Spanish accent). Roberta is also known as a filker; she was inducted into the Filk Hall of Fame in 2013. In her Mundane life, Roberta is retired after a 37-year career as a Children's Librarian in public libraries in New Jersey.
****
Don Sakers was launched the same month as Sputnik One, so it was perhaps inevitable that he should become a science fiction writer. A Navy brat by birth, he spent his childhood in such far-off lands as Japan, Scotland, Hawaii, and California. In California, rather like a latter-day Mowgli, he was raised by dogs.

As a writer and editor, he has explored the thoughts of sapient trees (The Leaves of October), brought ghosts to life (Carmen Miranda's Ghost is Haunting Space Station Three), and beaten the "Cold Equations" scenario ("The Cold Solution," Analog 7/91, voted best short story of the year.) He's best known for his Scattered Worlds series.

Since 2009, Don has been the book reviewer for Analog Science Fiction & Fact, where he writes the "Reference Library" column in every issue.

Don lives at Meerkat Meade in suburban Baltimore with his spouse, costumer Thomas Atkinson.
****
Lawrence M. Schoen holds a Ph.D. in cognitive psychology and psycholinguistics. He spent ten years as a college professor, and has done extensive research in the areas of human memory and language. He currently works as the director of research and analytics for a series of mental health and addiction recovery facilities in Philadelphia. He's also one of the world's foremost authorities on the Klingon language, the publisher behind a speculative fiction small press, Paper Golem, and a certified hypnotherapist specializing in working with authors. In 2007, he was a finalist for the John W. Campbell Award for Best New Writer. He received a Hugo Award nomination for Best Short Story in 2010 and Nebula Award nominations for Best Novella in 2013, 2014, and 2015. For more than a decade he's written humorous stories and novels about a space-faring stage hypnotist named the Amazing Conroy and his animal companion Reggie, an alien buffalito that can eat anything and farts oxygen. His latest work BARSK: THE ELEPHANTS' GRAVEYARD, is decidedly more serious, an anthropomorphic SF novel that explores prophecy, intolerance, loyalty, conspiracy, friendship, and a drug that lets your speak to the dead. Also elephants. In space.
****
Pam Smith is a native of Dallas, Texas and studied vocal performance at the University of North Texas focusing on opera and musical theater before enlisting in the U.S. Air Force. She moved to Harrisburg, PA. She has studied political science and focused on civil rights and civil liberties. She is currently pursuing a doctorate in human services where her focus is on the LGBTQ community, specifically transgender individuals. She is a mother of 4, a grandmother, and an advocate for LGBTQ civil rights. She is also an avid cosplayer.
****
Kathy Sobansky spent most of her young life reading science fiction and looking for people to sing in harmony with. Soon after moving to Maryland in 1977, she found John Huff, Bob Esty and Don Stallone in the Markland Militia, and shortly after THAT, Clam Chowder was born, under the escalators at the Hunt Valley Inn, at Balticon 1978. The rest is history. Though Clam Chowder is now retired, making her a Clam Emerita, she still cherishes her passions for music and science fiction. She is married to her other passion, resident lawyer and poker maven Ed Sobansky, aka Igor Bear.
****
Michelle D. Sonnier is an urban fantasy writer who specializes in the dark side, some might even say she jumps over the line into horror on occasion. The characters in her stories are rarely purely good or purely evil; it's the gray areas that fascinate her. She has a collection of short stories, Charmed City: 13 Tales of the Peculiar and Obscure, available now. Her work has also appeared in Tales of the Talisman magazine and Allegory eZine, as well as multiple anthologies from Sam's Dot Publications and more recently Malicious Deviance from The Library of the Living Dead and Dia de Los Muertos: A Day of the Dead Anthology from Elektrik Milk Bath Press.
****
Brent Warner works in the space industry as a thermal engineer. (That means that he does heating and air conditioning in space.) He has been fascinated with airplanes since childhood, and his first airplane ride was in a Ford Trimotor back when that type was in scheduled airline service.
****
Jan Whiteley is a lifelong science fiction and fantasy reader, with a great love of the writing craft. A long-time attendee of Darkovercon, she is looking forward with great relish to the first Chessiecon manifestation. There, Jan (who is also a member of the ECKANKAR clergy) hopes to moderate some panels and lead all those interested in a HU chant. HU is a word of peace and protection that individuals of any faith can use to strengthen their connection with the Life Force.
****
M. Woodling has long been interested in urban legends and local folklore--knowing full well that not all the interesting creatures in the world reside in far away places. She is a member of both Free Spirit Alliance (founded in 1986) and Chesapeake Pagan Community (formed in 2003).
****